No.1 Building Maintenance
SELVA GROUP Fit for small masonry and concrete rehabilitation, exterior and inside walls repairing, tiling work, provide and set up of constructed-in wardrobes and kitchens. We successfully undertake all air con and chiller servicing duties and the related preventative building maintenance contracts and standard plumbing and electrical requirements for industrial and personal properties.
Our expert emergency technicians are available 24/7 for damaged Air Conditioning items, blocked plumbing, or other emergencies. Snagging is figuring out internal and exterior defects that might not meet the ending specific by contract and agreed upon between the landlord and developer.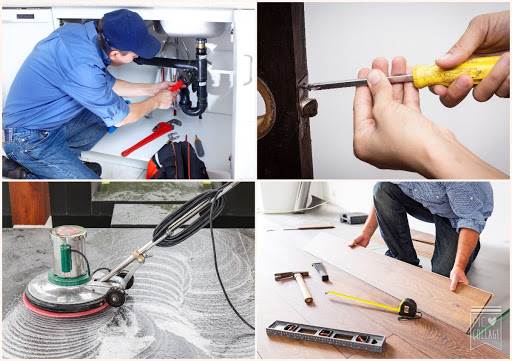 Introduction to Selva Group
The Selva Group is a leading provider of building maintenance services in the UAE. We offer a wide range of services that include repairs, cleaning, and preventive maintenance. Our services are designed to keep your building in top condition and improve its curb appeal.
Selva Group has been in the business for over 15 years and has a team of experienced and certified professionals who can handle all kinds of building maintenance requirements. We use high-quality products and the latest technology to deliver the best results.
Building Maintenance Company
A building maintenance company helps to keep your property in good condition and can address a wide range of concerns, from small repairs to more significant issues. For commercial properties, it is especially important to have a reliable company that can respond quickly to any maintenance needs that may arise.
The Selva Group is one of the leading building maintenance companies in the UAE, with a team of experienced professionals who can handle all types of repairs and maintenance work. We understand the importance of maintaining your property in top condition, and our goal is to always provide you with the best possible service.
Signs that Indicate the Need for Building Maintenance
Routine building maintenance is essential to preserving the value of your property and ensuring a safe, comfortable environment for tenants or customers. Inspections can identify potential problems early on before they become more serious – and more expensive – issues.
Here are some signs that indicate the need for building maintenance:
Lodging or Settling
If you notice any doors or windows sticking, cracks in walls or ceilings, or sagging floors, this could be a sign of settling – which can eventually lead to structural damage. Routine maintenance can help to prevent these problems from becoming more serious.
leaking pipes or fixtures
A dripping faucet may not seem like a big deal, but it could be indicative of a larger problem, such as a leaky pipe. These kinds of problems should be addressed as soon as possible to avoid further damage.
Peeling paint or wallpaper
This may not be an immediate concern, but it is something that should be addressed during routine building maintenance. Paint and wallpaper can deteriorate over time, leading to costly repairs down the line. By taking care of these cosmetic issues early on, you can save yourself money in the long run.
Damaged gutters and roofing
Gutters and roofs need to be inspected to ensure that they are in good condition. If you notice any cracked shingles or clogged drains, these should be addressed immediately, as it could lead to major water damage.
Excessive dust or dirt
Dust and dirt can build up in places like the HVAC system, ductwork, and other places where it can't be seen. Maintenance is essential for removing this buildup and helping to extend the life of your building's systems.
Signs of pests or rodents
Rodents may not seem like an immediate hazard, but they can bring a host of health and safety concerns with them if not addressed promptly. Be on the lookout for droppings, chewed wiring, or other signs of infestation during building maintenance inspections.
Benefits of Selecting Professional Building Maintenance Services
Building maintenance is important to extend the life of your property and Selva Group offers professional building maintenance services to help you keep your property in top condition. Here are some benefits of selecting professional building maintenance services:
Prolong the life of your property:
Regular maintenance can help prolong the life of your property by keeping it in good condition. This will save you money in the long run as you won't have to carry out major repairs as often.
Enhance the appearance of your property:
Professional building maintenance services can enhance the appearance of your property, making it more appealing to potential tenants or buyers. This can increase its value and help you achieve a higher return on investment.
Improve safety and security:
By ensuring that all aspects of your property are well-maintained, you can improve safety and security for both occupants and visitors. This is especially important if you have young children or elderly residents living on your property.
Save time and effort:
Trying to carry out regular building maintenance yourself can be time-consuming and difficult, particularly if you don't have the necessary skills or knowledge. Hiring professional services frees up your time so that you can focus on other important tasks.
Cost-effective solution:
Professional building maintenance services can be cost-effective as you don't need to buy or hire expensive equipment or replace parts of your property more often than necessary. You can also save money on labor costs by outsourcing the work to a professional who already has the skills and knowledge to complete the job quickly and efficiently.
Top Reasons to Choose Selva Group
There are many building maintenance companies, but Selva Group is one of the best. Here are some of the top reasons to choose Selva Group for your building maintenance needs:
Selva Group has a team of experienced professionals who can provide high-quality services.
We use the latest technology and equipment to ensure that your property is well-maintained.
We offer competitive pricing for our services.
Selva Group offers a wide range of services that can meet all your building maintenance needs.
We have a strong commitment to customer satisfaction and strive to provide the best possible service.
What Does Proper Building Maintenance Include?
Proper building maintenance includes a wide range of tasks and activities that are essential to keeping a facility in good working condition. These activities can be divided into three main categories: preventative maintenance, routine maintenance, and emergency/corrective maintenance.
Preventative Maintenance
Preventative maintenance is all about taking proactive measures to avoid problems before they occur. This could involve tasks such as regularly cleaning and inspecting the building's exterior, checking for signs of wear and tear, and making sure that all systems and equipment are running properly. By taking care of potential issues before they have a chance to become major repairs, preventative maintenance can save property owners a lot of time and money in the long run.
Routine maintenance
Routine maintenance is made up of the smaller tasks that need to be carried out on a regular basis to keep the property in good condition. This might include things like changing lightbulbs, unclogging sink drains, or mopping floors. While routine maintenance generally does not require professional help, it is still important to make sure that these tasks are carried out regularly to avoid bigger problems down the road.
Emergency or corrective maintenance
Emergency or corrective maintenance is needed when something unexpectedly breaks or stops working properly. This type of work generally needs to be carried out by qualified professionals as it can be dangerous if not done correctly. Examples of emergency or corrective maintenance include fixing a broken pipe or dealing with a gas leak.
While each type of building maintenance is important, it's always best to focus on preventative measures first to avoid any potential mishaps. Taking the time to maintain your property can also help keep your insurance premiums down as well.
Tips to Prepare Your Property for Building Maintenance
For any property owner, commercial or residential, building maintenance is important to ensure the longevity and value of the investment. Here are a few tips from Selva Group to help prepare your property for building maintenance:
Schedule cleaning and checking of all common areas, including hallways, stairwells, elevators, and lobbies.
Inspect air conditioning units and replace filters as needed.
Test all fire alarm and sprinkler systems and ensure that they are in good working order.
Have a qualified electrician check all wiring and electrical outlets on a regular basis.
Inspect plumbing fixtures and pipes regularly for any leaks or damage.
Make sure all windows and doors are securely locked and weather-stripped to prevent drafts.
Use this section to provide detailed information about preparing for building maintenance.
Schedule maintenance of all elevators, including lubricating bearings and cables.
Have an experienced building maintenance technician inspect HVAC units and boilers on a scheduled basis.
Replace old windows and doors with insulated versions to increase energy efficiency.
Ask a professional roofer to assess your roof for any damage or signs of wear before the rainy season begins before they cause further issues within the building's structure.
Modern Building Maintenance
It is now globally understood that building maintenance is key to maintaining the value, safety, and appearance of any structure. However, it can be difficult to keep up with the constantly changing technologies and best practices. That's where Selva Group comes in, we are experts in modern building maintenance methods and can help you ensure your buildings are always up to code.
Some of the services we offer at Selva Group include:
Cleaning and upkeep (both internally and externally)
Repair work on any damages or wear and tear
Restoration work for older buildings
Updates and installations for new technology or equipment
No matter what type of building you have or what level of maintenance it requires, Selva Group can tailor a solution specifically for you. We understand that every customer has different needs, so we offer flexible contracts that can be adjusted as your needs change.
General Building Maintenance
It is essential to keep a building well-maintained to protect against weather damage, pests, and other hazards. But what exactly does maintaining a building entail?
The Selva Group offers general building maintenance services that take care of everything from ongoing repairs to one-time deep cleaning projects. We understand the importance of keeping a commercial or residential property in tip-top shape, which is why we offer comprehensive services at competitive rates.
Some of the general building maintenance services we offer include:
Repair and replacement of broken or damaged fixtures
Cleaning of gutters, drains, and downspouts
Window washing
Pressure washing
Exterior painting
Deck staining and sealing
Construction Maintenance
It is important to note that construction maintenance is not only critical for the safety of Selva Group employees but also for the quality of the finished product. Furthermore, building maintenance can save you money in the long run by preventing expensive repairs or replacements.
Some of the most important aspects of construction maintenance include:
Inspecting and repairing structural elements such as walls, ceilings, floors, and roofs.
Checking and servicing electrical and HVAC systems.
Cleaning and sanitizing all areas of the building.
Maintaining landscaping and groundskeeping features.
Testing fire prevention and safety equipment.
Replacing damaged fixtures, fittings, and another component.
Completing maintenance of materials and equipment used in construction.
Ensuring compliance with all applicable building codes and regulations.
High Rise Building Maintenance
It is a well-known fact that preventive maintenance is always better and cheaper than reactive maintenance.  When it comes to high-rise buildings, this could not be truer. The cost of downtime and lost productivity due to a prevented elevator or some other key system failure can be astronomical. High-rise building maintenance is crucial to keeping these structures running smoothly and ensuring the safety of those who occupy them.
The Selva Group offers comprehensive high-rise building maintenance services that are designed to keep your building running at peak performance. Our experienced team of technicians can handle all aspects of preventive maintenance, from HVAC and plumbing to electrical and fire safety systems. We also offer emergency repairs and replacements when necessary.
Our goal is to help you avoid costly downtime and disruptions by keeping your building in top condition. Maintenance will also extend the life of your equipment and systems, saving you money in the long run. 
Office Building Maintenance
Building maintenance is important to ensure the safety and longevity of your office building. Selva Group provides comprehensive maintenance services that cover all aspects of your building, from the exterior to the interior. We understand the importance of keeping your office in top condition, and our team of experienced professionals provides the highest quality service possible.
Some of the maintenance services we offer include:
Exterior cleaning and pressure washing
Interior cleaning and janitorial services
Repair and replacement of damaged fixtures
HVAC maintenance and repairs
Electrical repairs and lighting maintenance
Plumbing repairs and upkeep
Wood Building Maintenance
Wood is a common material used in construction, so it's important to know how to properly maintain it. Selva Group has put together some tips on wood building maintenance:
Inspect your wood regularly.
for signs of damage or wear. This includes checking for cracks, splinters, warping, and rot.
If you notice any damage, repair it immediately to prevent the problem from getting worse.
Protect your wood against the elements by sealing it with a weatherproofing agent. This will help extend its lifespan.
Don't forget to clean your wood regularly! Just like any other material, dirt and grime can build up over time. Give it a good scrub with soap and water (or a mild cleaner) every now and then to keep it looking its best.
Regularly check for termites, carpenter ants, and other wood-destroying insects. Contact a professional if you suspect there may be an infestation.
Keep your wood out of direct sunlight to prevent it from fading or warping.
If you notice scratches or dents developing on your wood, use mild sandpaper to gently sand them away. Finish off with some clean polish or oil to restore its shine.
The Selva Group provides excellent building maintenance services to ensure that your property is well-maintained and secure. This means you can enjoy peace of mind knowing your building is regularly checked, inspected, and kept up to standards by a highly trained team of experts who understand the importance of maintenance. With our expertise, we will help protect your investment while ensuring it stands out from the crowd with its high-quality look and feels – something everyone can appreciate.
Residence & Customized Maintenance Services
Although team that confirmed up we're on the ball – they mounted things that I had left for means too long and over and above what I anticipated from them. The premier services management and property maintenance company for the perfect Dubai space. We service villas, houses, and buildings with our Dubai maintenance contacts. Your property is our precedence, and we goal to preserve and keep it, and we will hold yours clean and working at its best.
Whether you have a middle-of-the-night upkeep emergency or common uphold that is too much to give you the outcomes you want alone, our staff and firm are here to serve you. Tying up with the maintenance company will bring great peace of mind to these with Dubai property portfolios.
We are here to fix all your Emergency Home Maintenance problems in a brief time & 24/7 wherever in Dubai. As lights stop working, the fuse has blown, or the breaker is tripping in your home. Our emergency handyman will come and repair your issues instantly. However, suppose you're deciding whether to purchase an apartment or villa. In that case, the worth of constructing insurance coverage, which covers the constructing construction, is often dearer for an estate. Another introductory price you must contemplate is your utility payments. The checking of internal and exterior pipe leaks must also be a factor, and it's essential to keep faucets and bathrooms routinely. Overall, the problems we see most regularly embrace clogged drains.