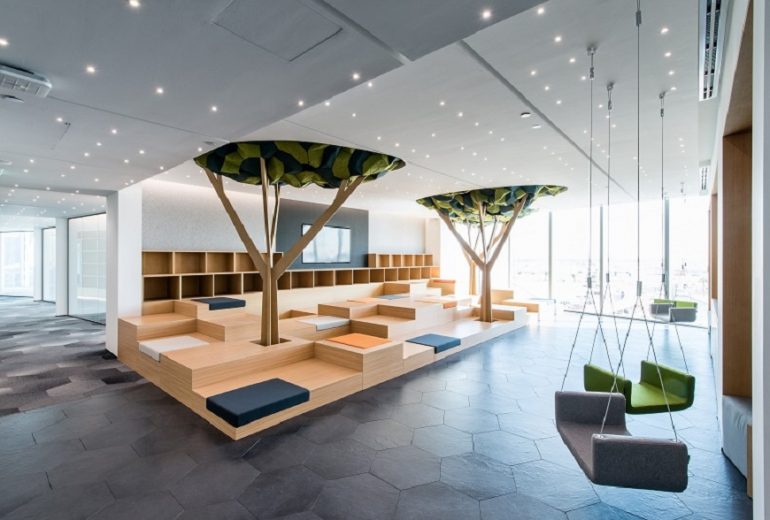 MASSIVE FITOUT WORKS
Selva Star 'Fit out' is a term used to describe the process of making a decision. Besides interior spaces suitable for occupation. So it is for office developments, Another the developer completes the base construction and the final by the occupant. further, the most important Work is an extreme phase of office preparation. It includes altogether installing ceilings, floors, furnishings, then partitions of a building and installing all required building services. Including wiring, cabling, intention all time but any communication and internet connectivity arrangements.
Office interior design plays a critical role in creating a productive work environment . In previous posts, Fit Out Works. The most important shown sustainable design improves employees' health, increases productivity, and cuts operational costs . Before starting your search for a reliable quality commercial fit-outs company, we suggest you consider a few key areas influencing and inspiring office in Dubai, UAE, and on a global level.
White box or shell construction typically involves:
Base flooring
Standard white walls
 ceilings
HVAC
Plumbing
Restrooms
Elevator and stairs for evacuation
Adaptations to local building codes and constrictions
correspondingly only have might tenants have their contractor for, but they might also have their architect. Interior architects are similar to designers, except
after all, they may plan the exact locations of walls and interior separations, door spaces, and other Fit Out Works. contributing factors to the overall space arrangements. These contributing personnel to the after all, process can be should help to get the tenant space 100% move-in ready, including final fixtures, Fit Out Works wall colors, shelving, etc. These activities too as or tenant improvements for the construction process. Although Of course, more personnel than and contractor.  The tenant's agreement regardless helps then but for complete finishing, some costs will provide that depend on the tenant. 
Lighting fixtures
 plumbing fixtures
Specialized flooring
Walls customization
extra doors
Customized windows or fixtures
Shelving
 ceilings
Once all of these things the jobs of the interior architect and fit-out contractor a completed, and the tenant can move into the landlord's space.
Shell and Core Fit-Out Here, the framework of the building is already in place waiting for the fitting out process. Accordingly, From the outside, the envelope of the building may appear done, however, it's missing several components such as power, interior walls, lighting, and heating. allows a business to custom fit a space to its specifications. This is suitable for large companies taking up a lot of space.
Choosing the Right Partner for Your Commercial Fit-Out
To enumerate the UAE Fit Out, and interior design market is flourishing with new and established firms competing for contracts. But so many to choose from, how do you decide? The last thing you want beginning to do is pick a company. At random and then be surprised by problems that may arise down the line. Therefore,
 you are not just choosing a contractor. you are choosing a partner who can not only implement your ideas but collaborate with you and others on your team (e.g., interior designer/architect) in bringing your vision to life. Choosing the right contractor is the most critical decision you will make when undertaking a commercial fit-out or re-design. Here are some guidelines to help you besides  narrow down your search for the perfect interior fit-out company in Dubai.
Category A Fit-Out
Category A fit-out is typically what is found in a commercial space that's ready for renting. This is a basic functional unit with some utilities such as electrical wiring and plumbing fixtures already in place.
Usually, a  will involve installing features such as:
 Electrical outlets
 Raised access floors
 HVAC systems
 Fire protection systems
 Toilets
Grid ceiling
Basically, the space is functional but lacks the secondary features of design that'll make it fit for its intended use. From this building phase, a business moves in and implements a Category B layout.
Category B Fit-Out
 To demonstrate then layout that takes into account your business needs and image. This fit-out also involves installing features and systems lacking . In other words,  is the aesthetic design fit-out phase where the space again is made to be more specific to the business. This phase may involve window treatments, adding furniture, installing the lighting, adding In case some flooring because of  partitioning, painting, and branding. For best results, should be inspired by the company's culture work ethics, team size, and protocols. This is the stage to tap into beginning  your creativity and business style to create a compelling brand image.
Efficiency of the Service System Designs
Enumerate the Design too fit-out in a way that different systems within the workplace operate efficiently to match the staffs' needs not to mention. (including reliable AC system for optimal office temperature, adequate lighting system, enough sockets, and so on).
Here are some systems to consider before finalizing the layout with the designer:
The type  data cabling required
Lighting and lux levels
Position  power outlets and switches
Number  data points require
 power outlets required
Air conditioning units
Air conditioning to server rooms and server racks
Ventilation, the position of mechanical registers, and return air grills
Talk to the employees to ensure you have all the crucial information about the commercial space.
Migrate IT and Telecoms
Communication necessities together with such as beginning been the internet and telephone can greatly get disrupted earlier. In correspondingly when moving from one workplace to another as a matter of fact. Depending on the business, any slight communication disruption may result in inconveniencing or losing several clients. This can be avoided by hiring a reliable fit-out specialist to create a solid migration plan for the communication system. A seamless migration process ensures that clients can in like manner. Email, text, or call even when the business is moving into new offices.
Legal Compliance of the New Space
Although the new design has to equally comply with all government requirements, which cover areas such as:
Fire alarm and extinguishers
Safe electrical setups
Ample working space
Efficient and comfortable working environment
Health and hygiene
Compliance with the above lowers the risk of illnesses, injuries, and accidents to the Fit Out Works employees.