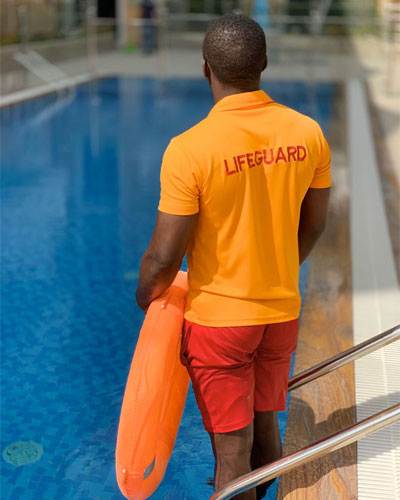 Likewise, lifeguard is liable for shielding then, at that point, appointed premises from any unlawful activities. Be that as it may, They likewise report such criminal operations around their area to then police for extra examination. But do not worry anymore about getting one of the best guards on your construction or different purposes.
Our lifeguard services staff is licensed and highly educated. most important  have skilled guards' experience in acknowledging swimmers in misery and carry out rescues as wanted.
If  have professionally qualified trainers accredited by the DAC for certification for lifeguards. This department has highly certified, and skilled individuals are working carefully with the Dubai Municipality officers to ensure general compliance.
A lifeguard is a legal requirement to have a lifeguard in every pool. It is mandatory for Dubai Municipality Public Swimming Pool Safety Guidelines. So Book, Lifeguard with our Group for better services.
Lifeguard Services Dubai
Selva services provide then  staffing solutions required for the optimal administration of your property. 
Since the guards are answerable for the safety of the individuals,  make sure to recruit only the most effective ones.
 Our group consists of experienced lifeguards and safety guards that can offer top-notch services.
Additionally specialize in offering SIRA-certified Lifeguards for industrial buildings, offices, and communities throughout Dubai, UAE. 
In addition, we provide lifeguard companies for Dubai Marina, Damac Hills, JLT, and Palm Jumeirah.
Our group of lifeguards service in Dubai is certified and skilled in life-saving and first assist; they're alert and trained to prevent accidents from immediately to any emergencies. The lifeguard's job and accountability are preventive, and they are bodily fit and motivated.
To enumerate  provide bouncers, lifeguard services, static safety officers, property guards, and providers about security management rooms. Apart from high-end events and professionals, we also offer security services to different events and official functions
furthermore are the UAE's leading provider of all water security and swimming teaching coaching solutions as properly as professional and licensing programs. In addition, we provide qualified Lifeguards for seashore resorts, resorts, residential buildings, offices, and many industrial areas across Dubai.