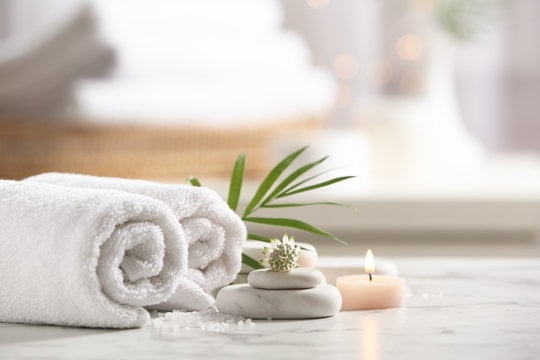 What is the Spa Approval Process?
The Dubai spa approval process is a stringent set of guidelines and regulations that all spas in the city must adhere to. These regulations are in place to ensure that all spas are operating at the highest standards of safety and cleanliness, and to protect the well-being of both employees and customers.
The approval process begins with an application submission, followed by an on-site inspection from a team of trained Dubai Spa Inspectors. Spas must pass this inspection with a score of 80% or higher to be granted a license to operate.
Once licensed, spas are required to renew their license annually and undergo regular inspections to maintain their status. So, what exactly do the inspectors look for during an inspection? Dubai Spa Inspectors will check for compliance in areas such as health and safety, cleanliness, customer service, and more.
They will also consider the overall environment of the spa, including its appearance, ambiance, and facilities. To ensure that your spa is up to par with the Dubai Spa Approval Process requirements, be sure to consult with experienced professionals who can help you navigate the licensing process and ensure compliance. With their help, you can get your spa licensed and open for business in no time!
Selva Group
The Selva Group Team is committed to providing the best possible service to all spa applicants. We are available to answer any questions or concerns you may have about the spa approval process, and we will gladly help you through every step of the application process.
If you are planning on opening a spa in Dubai, or if you have any questions about the spa approval process, please don't hesitate to contact the Selva Group Team today!
Dubai Spa Approval Requirements
Here are a few of the precise rules the Dubai Health and Safety Department has put in place for spa approval. The candidates must also be well-versed in the following rules:
The site of the spa or beauty parlor must have approval from Dubai Municipality's planning division.
A signboard must be placed in front of the building.
The lighting must be plenty, and the furnishings must be appropriate and hygienic.
Dressing chairs must strictly not be smaller than 3.0 m broad by 3.5 m long to achieve the required specifications.
The facility's minimum height between the ceiling and floor cannot be less than 2.30m.
For cosmetic procedures including pedicures, manicures, hair removal, and henna application, distinct spaces must be set aside.
A washbasin must be located close to the regions used for face treatments. In the facial rooms and the hair-cutting lounge, washrooms are a need.
Rooms must be at least 2 meters by 3 meters and have fitted walls for a suitable division. There should not be any temporary curtains or accordions used as a divider.
Towels, cosmetics, and personal care items must be stored in cabinets and drawers in each room.
The manufacture of hair-removing products requires the use of fireproof materials.
There must be a water heater installed in the spa.
The consumer products safety branch of the Dubai Municipality must register all personal care, cosmetic, and hair products.
The usage of any type of machine must be approved by the Dubai Health Authority.
The Dubai Economic Development Department must provide you with permission if you want to host the Spa in your home.
For successful results, the necessary paperwork must be submitted, and the Dubai Health and Safety Department's standards must be met.
As a result, Selva Group Team offers you convenience and efficiency in one smart suite for a thorough consultation and proper plan that will cover you from strategic space planning to documentation, inspection, and achieving Spa Approval in Dubai. This way, you can get professional guidance and avoid application cancellation in any phase.
The Rules for Establishing a Spa in Dubai
The following criteria are used by Dubai Municipality's planning division to approve the spa location.
The requirement to post a notice in front of the spa.
The spa facilities should have the proper illumination.
The spa area is expected to be taller than 2.30 meters.
A distinct space with a size of more than 2.50 × 1.50 meters that is designated for beauty treatments requiring hygienic issues, together with the proper wall.
Next to the area for face treatments, there needs to be a washroom.
putting fire-resistant materials in place for hair removal services Installing a water heater is a must.
Cabinets and drawers for gadgets, towels, and cosmetics should be included in the furniture.
Details on Opening a Spa in Dubai
Starting a spa is feasible both on Dubai's mainland and in free zones. It is best to start on the mainland, but no matter where you begin, there are a few prerequisites that must be completed.
Any machine usage requires prior authorization from the Dubai Health Authority.
The Dubai Economic Development Department must provide you with permission if you want to host the Spa in your home.
Each spa should only offer services to one gender (male or female), and all staff members should belong to the same gender (male staff serving male clients, female staff serving female clients).
If a spa center offers services to both men and women, each gender must have access to a separate entrance (and reception), and the facility must display the operating hours for each gender at the main door.
The door separating the men's and women's restrooms needs to be permanently locked.
To labor beyond midnight, special authorization or approval must be sought.
Internal notices in both Arabic and English must be posted in conspicuous locations and cover the following topics.
Make it clear that the facility does not offer people medical care and is not a healthcare facility.
advising consumers to consult a doctor for guidance if they are ill prior to taking the service.
Pregnant women are cautioned or restricted from using the service.
Rules for Obtaining a Spa License
A legitimate trade license from Trochees must be kept safe and displayed inside the building.
The brand name must accurately describe the service the center offers while excluding any references to medical procedures.
If necessary, it is advisable to obtain a current Dubai Health Authority (DHA) license for each member of the crew.
Both the OHC Inspection form and an updated employee list must be supplied.
The Public Health and Safety Section of Trakhees shall issue the Occupational Health Card (OHC) to assigned personnel.
The facility is only allowed to undertake the activities that are listed as permissible in the license.
Secure the NOC from the commercial control section.
Documents Required for Approval
The Dubai Department of Economic Development (DED) requires all businesses in Dubai to be registered and licensed. The DED has several different types of licenses available, and the type of license you need depends on the type of business you are running.
If you are planning to open a spa in Dubai, you will need to apply for a Commercial License. The application process for a Commercial License is relatively simple and can be done online through the DED website.
To apply for a Commercial License, you will need to submit the following documents:
– A completed application form
– A business plan
– Your passport and visa copy
– Emirates ID copy
– No Objection Certificate from your sponsor (if applicable)
– Trade License fee
Once your application and supporting documents have been submitted, the DED will review your application and issue you a decision within 10 working days. If your application is approved, you will be issued a Commercial License which will allow you to operate your spa in Dubai.
Types of Training and Certification Needed
There are two types of training and certification needed to work as a spa therapist in Dubai: theoretical and practical. Theoretical training can be completed online, through correspondence courses, or at a vocational school. Practical training must be completed at a licensed Dubai spa that offers an accredited program.
After completing both types of training, therapists must then pass a final examination administered by the Dubai Health Authority to be certified to work in the emirate.
Aspiring spa therapists should ensure that they complete all the necessary training and certification before applying for jobs in Dubai, as most employers will require proof of these qualifications.
Fees and Costs 
The Dubai Department of Economic Development (DED) spa approval process costs AED 500 for the application fee, AED 200 for the registration certificate, and AED 1,000 for the trade license. The total cost of the process is AED 1,700.
The DED also requires a security deposit of AED 2,000, which will be refunded once the license is issued. In addition, there is a yearly renewal fee of AED 1,000.
As part of the application process, applicants must submit a business plan, financial projections, and other required documentation. Please note that these documents may require additional fees to prepare.
Perfecting Your Application Package
When it comes to your spa application package, the devil is in the details. Make sure all required documents are included and that they're accurate. Pay close attention to the application form itself, as well as any instructions or criteria provided by Dubai's Department of Tourism and Commerce Marketing (DTCM).
One common mistake is failing to provide enough documentation. Rather than including just the bare minimum, include any documentation that could potentially support your application. This may include financial statements, business plans, marketing materials, letters of recommendation, etc.
The more information you can provide, the better your chances of success. Another mistake is submitting outdated or inaccurate information. Be sure to double-check all your documents before sending them in.
Outdated information can make it appear that you're not keeping up with the latest trends in the spa industry, which won't reflect well on your business. Inaccurate information will just make things more complicated and delay the processing of your application.
Don't forget to sign and date all forms before sending them off. applications with missing or unsigned forms will likely be rejected outright. So, take care to complete all forms correctly and fully before submission.
Navigating the Inspection Process 
Review the documents required for spa registration and approval in Dubai.
Apply along with the required documents to the Dubai Municipality.
Pay the relevant fees for spa registration and approval.
Schedule an appointment for an on-site inspection by the Dubai Municipality.
Prepare your spa premises for inspection, ensuring that all requirements are met.
Co-operate fully with the inspector during the on-site inspection of your spa.
Follow up with the Dubai Municipality after the inspection to ensure that your spa is approved and registered successfully.
Dubai's spa approval process can seem daunting, but with the right resources and research, it can be manageable. Understanding each step of the process, planning, and staying organized will help you make sure everything is taken care of before opening day. With all these tips in mind, you'll be ready for the exciting journey ahead into becoming a licensed spa owner in Dubai!