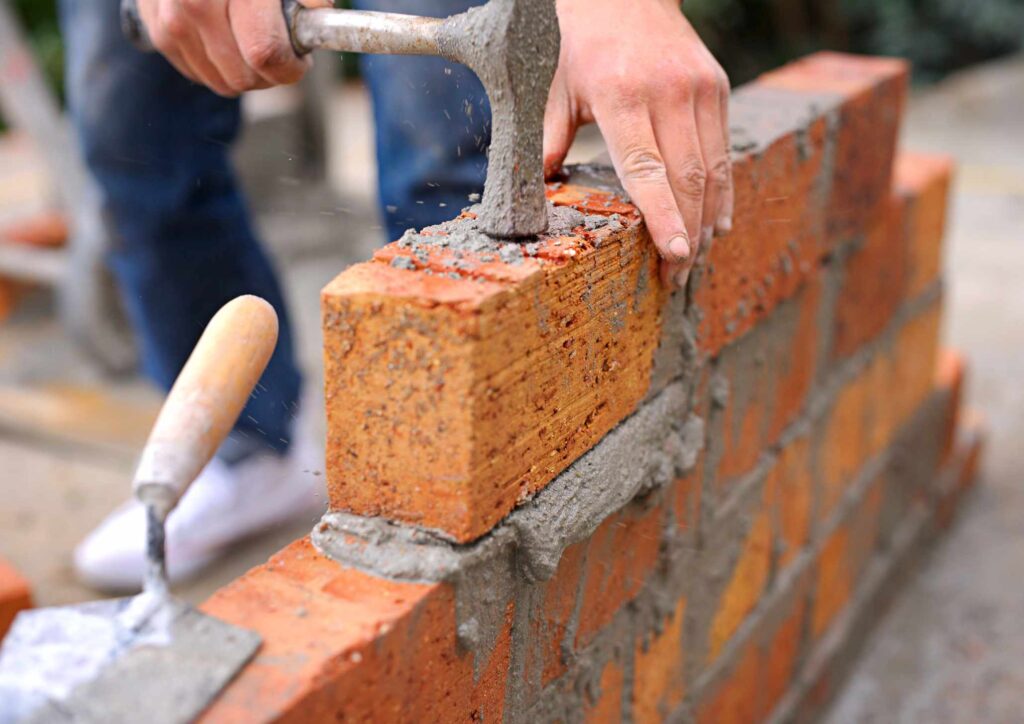 #NO.1 Masonry Maintenance
Likewise, SELVA GROUP gives extraordinarily capable stone work organizations to our clients. Brick work MAINTENANCE are the seasoned veterans of fixing and replacing your washrooms, kitchen, and pool ground surface, divider tiles. The best and amplest scope of quality administrations for a wide range of work in business properties and private homes.
Our expert bricklayers are effective for a wide range of quality works, including establishment and substitution of floor and divider tiles, marble and rock ground surface and ledges, floor and divider grouting, waterproofing, divider mortar, interlock tiles, and blocks. The stopping and nursery region and all that expected to expand the wonder of your home.
Introduction to Selva Group
If you need reliable and professional masonry maintenance services in the UAE, look no further than Selva Group. With over 15 years of experience, we are experts in all types of masonry repair and maintenance, from small repairs to full exterior restoration. We have a team of highly skilled and experienced craftsmen who use only the highest quality materials to ensure that your property looks its best.
Selva Group offers a wide range of masonry maintenance services to fit your specific needs and budget. We provide free estimates so that you can make an informed decision about the work that needs to be done. We also offer a 100% satisfaction guarantee on all our work, so you can be sure that you're making the best decision for your property.
Contact Selva Group today to learn more about our masonry maintenance services or to schedule a free consultation. We look forward to serving you!
The Benefits of Hiring Masonry Maintenance Services from Selva Group
There are many benefits to hiring masonry maintenance services from Selva Group. Here are just a few of the advantages that our clients enjoy:
Cost-effectiveness:
Selva Group offers highly competitive rates for all our masonry maintenance services. This allows our clients to save money on their overall building maintenance costs.
Flexibility:
We understand that each client has unique masonry maintenance needs. As such, we offer customizable solutions that can be tailored to fit any budget or schedule.
Experience and expertise:
Our team of experienced and certified professionals has the skills and knowledge needed to get the job done right – the first time around.
Convenience:
We offer convenient online booking and scheduling options, so you can schedule your masonry maintenance services at a time that works best for you.
Peace of mind:
When you hire Selva Group, you can rest assured knowing that your masonry maintenance needs are in good hands. We will work diligently to ensure that your property is well-maintained and looks its best.
What Services Does Selva Group Offer?
Selva Group is a masonry maintenance company based in the United Arab Emirates that offers a wide range of services to our clients. Some of the services offered by Selva Group include:
Masonry cleaning:
Selva Group offers professional masonry cleaning services using the latest technologies and equipment. We can clean all types of masonry surfaces, including bricks, stone, concrete, and more.
Masonry repair:
Selva Group also offers masonry repair services. We can repair cracks, chips, holes, and other damage to masonry surfaces.
Masonry sealing:
Selva Group can seal masonry surfaces to protect them from weathering, staining, and other damage.
Masonry restoration:
Selva Group offers complete masonry restoration services. We can restore damaged or worn masonry surfaces to their original condition.
Masonry installation:
Selva Group can also install new masonry surfaces for a wide range of applications.
Masonry inspection:
Selva Group can provide professional masonry inspections to ensure that your masonry is in good condition.
Overall, Selva Group offers a wide range of masonry-related services to our clients.
Safety and Accuracy with Selva Group's Masonry Maintenance Services
When it comes to masonry maintenance, Selva Group is the name you can trust. We have a team of highly skilled and experienced professionals who provide the best possible service to our clients. We only use high-quality materials and equipment, and our work is always carried out to the highest standards.
We understand that safety is paramount when it comes to any kind of building work, which is why we always put safety first. All our workers are fully trained and certified and will always follow all safety procedures. We also carry out regular risk assessments to ensure that our work is as safe as possible.
Accuracy and attention to detail are crucial when it comes to masonry maintenance. Our team takes great care in everything they do, from cleaning and repairing bricks and mortar joints to repointing stone walls. We always make sure that the finished result looks perfect so that your property can continue to look its best for years to come.
Expertise and Professionalism of the Staff at Selva Group
The staff at Selva Group is highly trained and experienced in all aspects of masonry maintenance. They are experts at repairing and restoring all types of masonry, from brick to stone to concrete. We use the latest techniques and equipment to get the job done quickly and efficiently. And we back up our work with a 100% satisfaction guarantee. So, you can be sure that your masonry will look its best for years to come.
Common Issues and Solutions in Masonry Maintenance
There are several common issues that can occur with masonry, but luckily there are solutions for all of them. Here are some of the most common issues and their solutions:
Issue: Cracks in the Masonry
Solution: Cracks can occur for several reasons, including settlement, temperature changes, and even poor construction. The best way to repair cracks is to consult with a professional masonry contractor who can assess the situation and recommend the best course of action. In most cases, cracks can be repaired with sealants or epoxy injections.
Issue: Efflorescence
Solution: Efflorescence is caused by water seeping into the masonry and bringing minerals to the surface. While this is not a structural issue, it can be unsightly. The best way to remove efflorescence is with a commercial cleaner specifically designed for this purpose. Once the efflorescence is removed, you should take steps to waterproof your masonry to prevent it from happening again.
Issue: Spalling Brick
Solution: Spalling brick occurs when moisture gets into the brick and causes it to break down. This can be a serious problem if not addressed quickly, as it can lead to structural damage. The best way to repair spalling bricks is by replacing any damaged bricks and then waterproofing the masonry to prevent further damage.
Issue: Deteriorated Mortar
Solution: Mortar that has deteriorated due to age or moisture can cause problems with your masonry. The best way to repair this is to use a mortar replacement product such as a polymer-modified mortar that matches the original composition of your masonry. This will help ensure a strong and lasting bond between the brick-and-mortar.
Issue: Staining and Discoloration
Solution: Stains and discoloration can be caused by several different sources, including mold and mildew. The best way to get rid of these stains is to use a mixture of bleach and water to clean the masonry. You can also use a commercial cleaner that is specifically designed for masonry surfaces.
Overall, masonry maintenance can be a tricky business. But with the right knowledge and a reliable contractor, you can ensure your masonry lasts for years to come.
Selva Group's Unique Approach to Masonry Maintenance
The Selva Group has a unique approach to masonry maintenance that is based on a three-step process. This process includes an initial assessment of the condition of the masonry, followed by a customized plan of action that is designed to meet the specific needs of the client. Finally, our team will carry out the repairs and restoration work in a timely and professional manner.
The Selva Group team is made up of highly skilled and experienced craftsmen who have a wealth of knowledge in all aspects of masonry maintenance. This means that we can carry out even the most complex repairs and restorations with ease. In addition, our team uses only the highest quality materials and tools to ensure that their work is of the highest standard.
If you are looking for a masonry maintenance company that can provide you with a comprehensive service, then look no further than the Selva Group. With our unique three-step approach, we will be able to assess your needs and provide you with a tailor-made solution that will leave your masonry looking as good as new.
Cost and Pricing Structure
The Selva Group offers the most competitive rates for masonry maintenance services. We provide a comprehensive quotation for all our services that includes the materials, labor, and other associated costs. We also offer discounts for volume bookings and repeat customers.
Different Types of Masonry Services Offered Selva Group
Masonry is an ancient craft that has been used to construct some of the most iconic buildings in history. Today, masonry is still an important part of construction and is used to create both functional and aesthetic structures. At Selva Group, we offer a wide range of masonry services that can be customized to meet the specific needs of your project.
One of our most popular services is stone restoration. Over time, natural stone can lose its luster and become stained or damaged. Our team of expert craftsmen can clean and restore your stone surfaces to their original beauty. We also offer specialized services for tile and grout cleaning and repair.
If you are looking for a unique custom solution, our team can design and build custom masonry features such as fireplaces, outdoor kitchens, water features, and more. We also offer comprehensive maintenance packages that can keep your masonry surfaces looking like new for years to come.
Importance of Regular/Timely Masonry Maintenance
It is important to have regular and timely masonry maintenance for several reasons. First, it ensures the longevity of your masonry structures. Second, it helps prevent small problems from becoming big, costly repairs. Third, it keeps your property looking its best, and fourth, it can help you avoid expensive replacement costs.
Some examples of regular masonry maintenance tasks include inspecting & repairing cracks; re-pointing mortar joints; sealing porous paving stones; power washing; and applying waterproofing sealers to brick, stone & concrete surfaces.
The Importance of Regular Maintenance cannot be overstated. Selva Group has the experience and expertise to get the job done right. We understand that time is a precious commodity, which is why we offer convenient online scheduling for all our services.
How Is Your Masonry Maintained by Selva Group?
The Selva Group is a full-service masonry maintenance company based in the United Arab Emirates. We provide a wide range of services to keep your masonry looking its best, including cleaning, repair, and restoration.
We use the latest techniques and equipment to clean all types of masonry surfaces, from brick and stone to stucco and concrete. Our team of experienced professionals will carefully assess the condition of your masonry and recommend the best course of action to restore it to its original beauty.
In addition to cleaning, we also offer repair and restoration services for damaged or worn masonry. We can patch cracks, replace missing chunks of brick or stone, and even repoint mortar joints. Our goal is always to restore your masonry to its original condition so that it can continue to protect your home or business for many years to come.
Overall, the Selva Group provides a comprehensive and cost-effective solution for all your masonry maintenance needs. Our team of highly trained professionals put in their vast knowledge and experience to offer you a wide range of services at an affordable price. Whether it is a residential or commercial property, we have the right tools and techniques to get the job done quickly and professionally. With years of expertise in masonry maintenance, you can be sure that with Selva Group's help your buildings will remain functional for many years to come.
Masonry Work In Dubai
Whether you wish to add aesthetic tiles in your kitchen partitions or urge exchanging the existing marbles from the bathroom space, simply give us a call. Our masonry maintenance specialists will attain out to your most popular location to mitigate your need. So, whenever you observe any point or crack on the tiles and marbles, If it requires a quick alternative. To enumerate guarantee to provide you with quality, sturdiness, and customization. We have appropriately skilled and expert Professional Masons to get the job accomplished rightly in a well-timed manner. To avail of our masonry and all other related services, call us at present. Additionally, with our premium assistance, you could get a variety of flooring, wall tiles, marbles, and granite to embellish your own home. 
Sometimes minor modifications are required in your villas or bungalow to increase its magnificence and peace. These adjustments are wanted for the time, making your life comfier. We provide repair and maintenance providers; however, we also supply providers to develop new additions to your present construction. Although prioritize each query and demand of our customers to give them an impeccable service that they are worthy of minor grouting, software of sealant, and fixing of isolated tiles. We can present the identical warranty to the shopper from the provider. If the provider does not provide the guarantee, We will not be able to be in a position to present the identical. 
Finest Masonry Service In Dubai
Having adopted these for over a decade now, we stand right here as probably the most excellent masonry contractors in Dubai you can ever discover. You get to choose a plethora of providers by just connecting with us. And, our skilled experts are available round the clock, close to your location, so search for help anytime. It could cause the number of harmful events, such as carbon dioxide, can increase inside the house. Masonry contractors design and offer masonry works for both residential and industrial infrastructure as needed by clients. Additionally, can develop brick masonry partitions, stone-masonry partitions, concrete partitions, and such. Our outstanding masons are adept in dealing with all types of tiling and marble works, as nicely as interlock and sensitive stonework. You can rely upon us in your flooring renovations, as correctly as complete restroom and kitchen renovations.
Besides a focus on ground tiling & wall tiling, works to make sure a uniquely designed residence for you. Finally, we understand that typically masonry disasters strike without discovery. Similarly, it is essential to contemplate the durability and security of the house to turn it into a high-commercialized place. One should acknowledge the proper ratio of supplies and instruments required to set up residential or industrial construction. Regardless, as a contract customer, We will all the time seek to rectify any problems with the AC, electrical, or plumbing units within the property. This premium upkeep firm in Dubai offers quickly in addition to efficient electrical services and ensures in your house or workplace instantly. Further, SELVA STAR masonry expert company is now in your city.