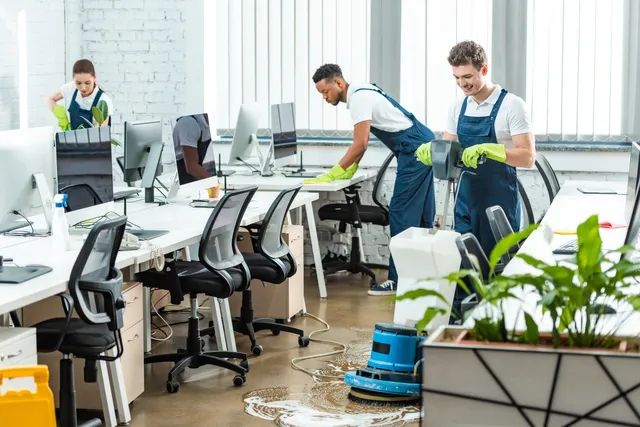 Introduction to our Service
The Selva Group is a leading provider of commercial deep cleaning services in the UAE. With over 15 years of experience, we have the expertise and resources to deliver high-quality deep cleaning services to businesses of all sizes.
Our commercial deep cleaning services are designed to meet the specific needs of each client. We offer a comprehensive range of services that includes everything from one-time deep cleans to ongoing maintenance programs. Our team of experienced and certified professionals uses the latest equipment and techniques to deliver superior results.
We understand that every business is different, which is why we offer custom solutions that are tailored to your specific needs. Whether you need a one-time deep clean or an ongoing maintenance program, we can create a solution that meets your unique requirements.
If you're looking for a reliable and experienced provider of commercial deep cleaning services, look no further than the Selva Group.
Commercial Deep Cleaning – Checklist
A commercial deep cleaning checklist is crucial to ensure that no area of your business premises goes uncleaned. The first step is to identify the areas that require deep cleanings, such as floors, walls, ceilings, and furniture. Once these areas have been identified, you should create a schedule for when each area will be cleaned.
When it comes to deep cleaning floors, carpets and other surfaces should be vacuumed or swept before being washed with appropriate cleaners. High-traffic areas may require more frequent cleaning than others.
Walls are another important part of any commercial deep cleaning process. Dusting and washing them can help remove dirt build-up from everyday wear and tear. Ceilings are often overlooked during regular surface cleanings, but they can harbor dust and cobwebs over time – making them an essential component in any commercial deep clean checklist.
Don't forget about the furniture! Upholstered chairs should be vacuumed or steam-cleaned while wooden tables or desks need special care by wiping down with wood-safe cleaner so they do not absorb moisture which could lead to warping or damage over time.
Commercial Deep Cleaning Company
There are many benefits of using a professional deep cleaning company for your commercial space. First and foremost, you can be assured that the job will be done right, and your space will be left clean and free of dirt, dust, and debris. Secondly, deep cleaning can help to improve the air quality in your office or workspace, which is important for the health and well-being of your employees. Finally, commercial deep cleaning can also help to extend the life of your carpets, flooring, and furniture by removing built-up dirt and grime.
Types of Commercial Deep Cleans We Offer
Selva Group offers a variety of commercial deep cleaning services to our clients. These services are designed to keep your business premises clean and tidy and to ensure that they meet the highest standards of hygiene.
The types of commercial deep cleans offered by Selva Group include:
Regular Deep Cleans:
These are carried out on a weekly or monthly basis, depending on your requirements. They include all the aspects of a standard deep clean, plus additional areas such as carpets and upholstery.
One-off Deep Cleans:
As the name suggests, these are ideal for businesses that require a one-time deep clean, such as after a renovation or before an event.
Customised Deep Cleans:
If you have specific requirements for your deep clean, Selva Group can tailor a package to suit your needs. This could include specialized cleaning for sensitive areas, or for specific types of dirt and grime.
Eco-Friendly Deep Cleans:
If you're looking for a deep clean that is environmentally friendly, Selva Group can provide you with eco-friendly products and methods that are both powerful and safe.
Disinfectant Cleaning:
This type of deep clean focuses on disinfecting surfaces to reduce the risk of germs and bacteria spreading on your business premises. This includes the use of specialized cleaning products, such as those containing alcohol, bleach, and other sanitizing agents.
How to Prepare Your Property?
A commercial deep clean is a thorough cleaning of your property, from top to bottom. It is important to prepare your property for a commercial deep clean to ensure that the process goes smoothly and that all areas are properly cleaned.
Here are some tips on how to prepare your property for a commercial deep clean:
Clear out any clutter:
Remove any items that are not necessary from the space that will be cleaned. This includes personal items, as well as excess furniture or decorations. This will make it easier for the cleaners to move around and clean all surfaces properly.
Dust and vacuum:
Thoroughly dust all surfaces and vacuum all carpets and upholstery before the cleaners arrive. This will help them to focus on deeper cleaning tasks and avoid re-cleaning areas that have already been dealt with.
Move fragile items:
If you have any fragile items in the space that will be cleaned, such as vases or figurines, it is best to move them out of the way. This will prevent them from being accidentally broken during the cleaning process.
Plan:
Decide what you would like the cleaners to focus on during the deep clean. This will help them to allocate their time effectively and make sure that all your requirements are met.
Prepare the cleaners:
Make sure that you provide the cleaners with any specific instructions or information that they may need to know before beginning the cleaning process. This could include information about allergies, pet hair, or any other areas of concern.
Process of our Service
A commercial deep cleaning service is a professional cleaning service that helps businesses keep their premises clean and free of dirt, dust, and debris. The process of a commercial deep cleaning service usually includes the following steps:
Initial assessment
Before starting the deep cleaning process, the Selva Group team will assess your business premises to determine the areas that need the most attention. This assessment will help us create a customized cleaning plan that meets your specific needs.
Cleaning all surfaces
Once the assessment is complete, our team will start cleaning all surfaces, including floors, walls, ceilings, windows, and doors. We will pay special attention to high-touch areas such as restrooms and kitchens to ensure they are thoroughly cleaned.
Vacuuming and shampooing
We will vacuum all carpets and upholstered furniture to remove any dirt and dust that may be trapped in the fabric. We will also shampoo all carpets to leave them looking fresh and new.
Dusting and polishing
We will dust all surfaces, including baseboards, blinds, light fixtures, and ceiling fans. We will also polish all hard surface floors to give them a shine.
Final inspection
Once we have completed the deep cleaning process, our team will conduct a final inspection to make sure everything is clean and in its proper place.
Our Quality Assurance
Quality assurance and standards are of the utmost importance to Selva Group. We ensure that all our commercial deep cleaning services meet the highest quality standards by following a rigorous quality control process. This includes regularly checking and auditing our cleaning services to ensure that they meet our high standards. We also have a team of dedicated quality control experts who carry out regular inspections to identify any areas where improvements can be made. In addition to this, we are committed to continuously improving our cleaning services and have an extensive research and development program in place to ensure that we are always at the forefront of the latest developments in the industry.
Commercial Kitchen Deep Cleaning
If your commercial kitchen is not cleaned properly, it can lead to several problems. Your customers could get sick, your equipment could break down, and your business could be shut down. A deep cleaning by Selva Group can help prevent these problems and keep your kitchen running smoothly.
Your commercial kitchen should be deep cleaned on a regular basis, at least once a year. Our team of experienced cleaners will clean every area of your kitchen, from the floor to the ceiling. They will also sanitize all surfaces, including countertops, cutting boards, appliances, and sinks. This will help ensure that your kitchen is free of bacteria and other contaminants.
Deep cleaning can be a daunting task, but our cleaners are up for the challenge. We have the knowledge and experience needed to get the job done right.
Why Commercial Establishments Should Regularly Invest in Deep Cleaning?
There are many reasons why commercial establishments should regularly invest in deep cleaning services. First and foremost, deep cleaning can help to keep the premises clean and free of dirt, dust, and other contaminants. This is important for both the health of employees and customers alike. Additionally, deep cleaning can also help to prevent the spread of diseases and infections.
Another reason why commercial deep cleaning services are so important is that they can help to improve the appearance of a business. First impressions are important, and potential customers are more likely to enter a clean and well-maintained store than one that looks dirty or unkempt. In addition, regular deep cleanings can also extend the life of flooring and other surfaces by removing built-up dirt and grime.
Finally, investing in commercial deep cleaning services can also save businesses money in the long run. Regular cleanings can prevent the need for more expensive repairs or replacements down the line. In short, there are many good reasons why all commercial establishments should make sure to invest in quality deep cleaning services on a regular basis!
How Often Should do?
It is important to always keep your commercial space clean and tidy. But no matter how much you try to keep up with the cleaning, there will always be those nooks and crannies that are hard to reach and clean. This is where commercial deep cleaning comes in handy.
But how often should you opt for commercial deep cleaning? Here is a quick guide:
If your business space is small with minimal foot traffic, then once or twice a year should suffice.
For spaces that are medium sized with moderate foot traffic, deep cleaning every three to six months should do the trick.
And for large spaces with high foot traffic, commercial deep cleaning every month or two is necessary to ensure that the area stays sanitized and safe for everyone. No matter what size or type of business you have, the Selva Group can provide you with professional commercial deep cleaning services that will leave your space sparkling clean from top to bottom!
Our commercial deep cleaning services provide a comprehensive and professional solution to any deep cleaning needs. Our team is experienced and highly qualified, consistently delivering exceptional results so you can have complete peace of mind when it comes to getting your property looking its best.