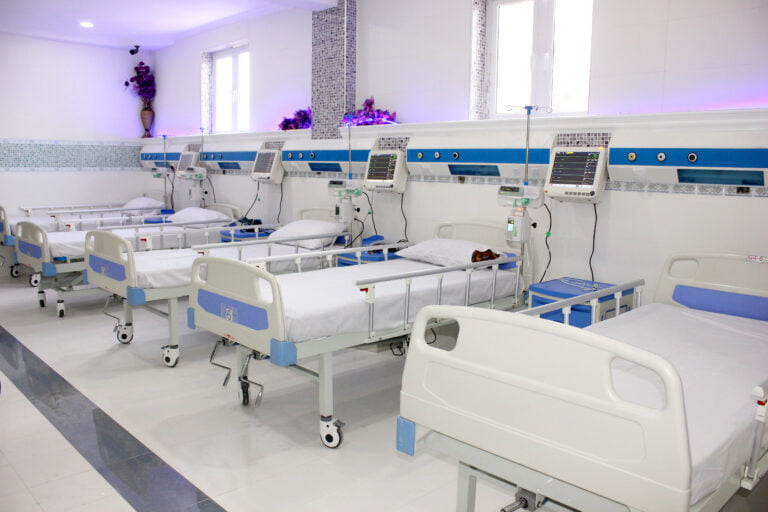 As society becomes more and more aware of the importance of cleanliness and hygiene, the demand for hospital deep cleaning services is on the rise. And rightfully so! The health and safety of patients, staff, and visitors should be the top priority of any healthcare facility.
That's where Selva Group comes in. We are experts in hospital deep cleaning services and have a wide range of experience in cleaning all types of healthcare facilities. We use the latest technologies and equipment to ensure that your facility is clean and safe for everyone.
What's more, we also offer a variety of other hospital cleanings services such as medical waste disposal, environmental services, and general housekeeping. So, no matter what your needs are, we can tailor a package specifically for you.
What Is Hospital Deep Cleaning?
Hospitals are some of the most important places in our society. They provide us with crucial medical care and save lives every day. However, hospitals are also places where germs can easily spread. That's why it's so important for hospitals to be regularly cleaned and disinfected.
Deep cleaning is a specialized form of cleaning that targets all the nooks and crannies where germs like to hide. Deep cleaning services are usually performed by professional cleaning companies that have experience in this type of work.
Selva Group is a professional deep cleaning company that specializes in hospital deep cleaning. We use state-of-the-art equipment and techniques to clean hospitals from top to bottom. Our hospital deep cleaning services are designed to remove all dirt, dust, and grime from your facility. We also disinfect all surfaces to kill any harmful bacteria or viruses that may be present.
Our hospital deep cleaning services are available 24/7, so we can work around your schedule. We understand the importance of having a clean and safe hospital, so we'll work quickly and efficiently to get the job done right.
Hospital Deep Cleaning – Checklist
Hospital deep cleaning must be conducted regularly to ensure the safety and well-being of patients, staff, and visitors. Here's a checklist that can help guide your hospital deep cleaning process:
Start by assessing the areas that need cleaning: Before you start any cleaning activities, assess which areas require attention. This step will help you identify where to focus your efforts.
Use appropriate personal protective equipment (PPE): PPE such as gloves, masks, and gowns are necessary when undertaking deep-cleaning tasks to protect yourself from hazardous materials.
Dust surfaces before wiping them down: Dusting all surfaces before wiping them down helps remove accumulated dirt and debris.
Clean high-touch surfaces frequently: High-touch surfaces like doorknobs, and light switches should be cleaned more frequently than other surfaces since they encounter many people throughout the day.
Disinfect using EPA-approved products: Using EPA-approved disinfectants ensures maximum effectiveness against bacteria and viruses.
Pay attention to hidden areas: Be sure to clean hard-to-reach areas like corners or under furniture where dust and dirt tend to accumulate over time.
Empty wastebaskets daily: Regularly emptying trash bins prevents odors from accumulating in patient rooms or common spaces.
By following these guidelines for the hospital deep cleaning checklist effectively, you'll be able to maintain a sterile environment for everyone who enters your facility!
Our Exclusive Services:
cleaning of switches, doorknobs, desks, counters, and other surfaces, including handles, doors, and windows
all types of flooring were cleaned and mopped.
polishing glass surfaces such as mirrors
cleanliness of the pharmacy and storage areas
Cleaning all electronics, medical equipment, and appliances
Bathroom, kitchen, lavatory, patient room, and other area cleaning and disinfection
removing garbage and medical waste in accordance with the directives of the health safety authorities
restocking soap and toilet paper
Cleaning dust off surfaces such as walls, ceiling fans, light fixtures, decorative objects, and air vents
Please let us know at the time of booking if you plan to use additional types of hospital thorough cleaning services.
Why choose Us?
For all our deep cleaning services for hospitals, we provide upfront pricing.
We use cutting-edge tools and technology to guarantee a 99.99% eradication of dirt and germs.
We provide hospital thorough cleaning services on a daily, weekly, monthly, and yearly basis.
We only make use of cleaning products that have been approved by the Dubai Municipality and are safe for the environment.
To fulfill the demands of the industry, each member of our staff has received extensive training.
Our cleaners and maids receive monthly training sessions that help build consumer confidence.
Additionally, we offer free pricing quotes for hospital deep cleaning services.
The satisfaction of our customers is important to us. Please let us know within 24 hours if you are not completely pleased with our services so we can address the situation.
Our specialized 5-step cleaning process
We have created a 5-step process exclusively for thorough cleaning hospitals. Here is a brief explanation of our unique procedure:
1# Site assessment:
Our trustworthy team members came to your location to create a special plan for hospital deep cleaning services.
2# Equipment Selection:
We have all the most recent technology, and we only use the best of it to fulfill your needs.
3# Chemical selection:
We continue to adhere to Dubai Municipality regulations. We only make use of approved cleaning agents and chemicals to reduce the risk of harm to human health and the environment.
4# Process evaluation:
Once the process is complete, we go over each step one more to make sure you're satisfied. If there is a problem, we fix it right away.
5# Meet standards for quality:
By eliminating 99.99% of germs from every nook and cranny of the hospital, we guarantee that we are meeting quality standards.
Our deep cleaning services for hospitals are very reasonably priced. Please let us know at the time of booking if you would want more information about our hospital thorough cleaning services. Keep checking back for more thrilling news!
Importance!
Hospitals are one of the most important places that need to be kept clean and always sterilized. There are many dangers associated with hospital environments, such as the spread of infection and disease. That's why it's so important to have a reliable and trustworthy hospital deep cleaning service like Selva Group on hand to keep your facility clean and safe.
Selva Group has years of experience in providing high-quality hospital deep cleaning services. We use state-of-the-art equipment and materials to ensure that your hospital is cleaned thoroughly and effectively. Our team of highly trained and experienced cleaners will pay special attention to all the nooks and crannies in your facility, leaving no stone unturned.
What's more, we understand the importance of keeping your hospital sterile and free from bacteria and pathogens. That's why we use eco-friendly disinfectants and sanitizers that won't put your patients or staff at risk. Selva Group is committed to providing the highest standards of cleanliness so you can focus on what you do best – provide excellent patient care.
If you're looking for a hospital deep cleaning service that you can trust, look no further than Selva Group.
Benefits!
Hospitals are some of the busiest places in the world, with staff and patients coming and going on a regular basis. This constant foot traffic can lead to a build-up of dirt and grime, which is why it's so important to have a reliable hospital deep cleaning service like Selva Group.
There are many benefits to using Selva Group for your hospital deep cleaning needs, including:
Removing harmful bacteria and viruses that can cause illnesses.
Reducing the spread of infections.
Improving the overall appearance of the hospital; and
Creating a safer and more pleasant environment for staff and patients alike.
What Makes Us Unique?
Selva Group is a hospital deep cleaning company that prides itself on its unique approach to providing safe and hygienic environments for patients, staff, and visitors. Selva Group's hospital deep cleaning services are designed to meet the specific needs of each individual hospital, ensuring that all areas of the facility are clean and free of potentially harmful contaminants.
What sets Selva Group apart from other hospital deep cleaning companies is our commitment to quality and customer service. We understand that every hospital is different, and we tailor our services to meet the unique needs of each facility. Our team of experienced professionals has the knowledge and expertise necessary to provide a thorough, effective cleaning that meets or exceeds all industry standards.
In addition to our high-quality services, Selva Group also offers a 100% satisfaction guarantee. We are so confident in our ability to provide safe and clean environments that we offer a full refund if you are not completely satisfied with our work. This guarantee is just one more way that Selva Group strives to be the best at what we do.
Different Types
Deep cleaning is an essential part of maintaining a safe and healthy hospital environment. At Selva Group, we offer a variety of deep cleaning services that are designed to meet the unique needs of hospitals. Our hospital deep cleaning services include:
General deep cleaning of all areas of the hospital, including patient rooms, bathrooms, and public areas.
Disinfection of high-touch surfaces and equipment, using EPA-registered disinfectants.
Cleaning and disinfection of operating rooms and other medical areas.
Special-event deep cleaning, such as before or after a flu outbreak.
Removal of biological waste.
Deep cleaning of large areas with high ceilings, such as lobbies or auditoriums.
Complete sensitization deodorization of patient rooms and other areas.
Disposal of regulated medical waste (RMW)in an approved manner.
Safe and Hygienic Environment
There are several benefits to hiring a professional service to deep clean your hospital. Perhaps most importantly, it helps ensure that your environment is safe and sanitary for both patients and staff. A professional deep cleaning will remove all dirt, grime, and pathogens from surfaces, leaving them clean and safe. This will create a healthier environment overall and help to prevent the spread of infection. In addition, a professional deep cleaning will also make your hospital more presentable and welcoming for patients and their families. A clean hospital is a sign of a high-quality institution that takes pride in its appearance and its commitment to providing excellent care.
Technologies Used
Selva Group's hospital deep cleaning services use cutting-edge technologies to ensure safe and hygienic environments for patients, staff, and visitors. Our hospital-grade disinfection system uses ultraviolet (UV) light to kill bacteria and viruses, and our HEPA filter vacuum cleaners remove dust and allergens from the air. We also use ozone generators to sterilize equipment and surfaces.
Hygienic Cleansing Methods
To ensure safe and hygienic environments for patients and staff, Selva Group has implemented several hygienic cleansing methods. These include:
Thorough cleaning and disinfection of all surfaces, including floors, walls, ceilings, and furniture.
Use of high-quality cleaning products and equipment
Strict adherence to infection control protocols
Regular monitoring and testing of environmental hygiene levels
By implementing these measures, we can provide hospital environments that are free from harmful bacteria and other contaminants. This helps to reduce the risk of infections and safeguard the health of everyone in the facility.
Quality Assurance
To ensure that our hospital deep cleaning services are of the highest quality and meet all safety and hygiene standards, Selva Group has implemented a rigorous quality assurance process. This process involves regular inspections of our cleaning staff and equipment, as well as periodic auditing of our procedures and performance. We also have a dedicated team of quality control specialists who constantly monitor our work to identify any areas where improvements can be made. In addition to these internal measures, we also regularly receive feedback from our clients which helps us to further refine and improve our services.
Other Factors Ensuring Hygienic Environments
Infection Control
Selva Group's hospital deep cleaning services also follow all infection control protocols to ensure that patients, staff, and visitors are protected from harmful bacteria and viruses. All our hospital-grade cleaning products are EPA-registered, and our team is trained in the proper way to use them.
The use of microfiber cloths and mops helps to reduce the spread of infection as well, by trapping dirt and bacteria instead of just pushing it around. Our team members also take care to clean hard-to-reach areas, like under beds and in crevices where dust and dirt can accumulate.
Cleaning for Allergens
If you or a loved one has allergies, you know how important it is to have a clean environment that is free from irritants. Selva Group's hospital deep cleaning services can eliminate the build-up of dust, pollen, pet dander, and other allergens that can trigger asthma attacks or allergic reactions. Our team uses high-powered vacuums with HEPA filters to remove these particles from the air and surfaces in your home.
Temperature Control
We understand that the temperature in a hospital can significantly impact the level of comfort, health, and safety of patients, visitors, and staff alike. Our team makes sure to check and adjust temperatures as needed to ensure a safe and comfortable environment.
Selva Group's hospital deep cleaning services provide a high-quality solution for ensuring safe and hygienic environments in hospitals. Our specialized team of experts uses advanced technologies and methods to ensure that all areas are completely disinfected, which is essential in the healthcare industry. In addition, our range of unique environmental solutions helps to reduce cross-contamination risks while also reducing interference with daily operations.