Carpentry Maintenance
A SELVA GROUP has an expert group of woodworkers who can take on whatever prerequisites you have, be it wooden furniture that necessities. Fixing or retires and cupboards that require exact and consistent establishment. Our organization has faith in giving master carpentry maintenance arrangements that yield fantastic outcomes at a reasonable and cutthroat expense. Despite the trouble or degree of the undertaking, you can anticipate that our team should complete then work inside the timetable and time you have indicated.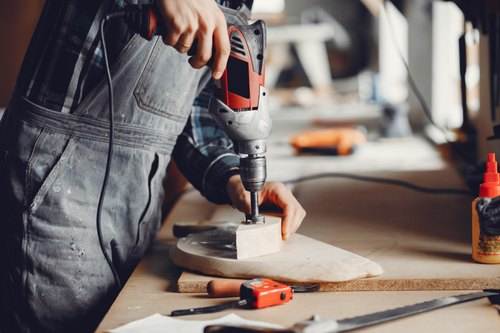 Introduction to Selva Group
Introducing Selva Group, the premier provider of woodwork maintenance services. We have been in business for over 15 years and have perfected the art of keeping woodwork looking like new. We offer a variety of services including cleaning, polishing, and repair. Our experienced team provides the highest quality service possible. We work closely with our clients to ensure that their woodwork is well-maintained and lasts for years to come. Contact us today to schedule a consultation.
Carpentry And Maintenance Services
Carpentry and maintenance services are important to maximize the lifespan of your woodwork. At Selva Group, we provide high-quality carpentry maintenance services to keep your woodwork looking its best. We can clean and repair any type of woodwork, from furniture to flooring. We also offer a variety of finishes and treatments to protect your woodwork from the elements. With our regular maintenance services, you can rest assured that your woodwork will last for years to come.
Range of Carpentry Maintenance Services Offered by Selva Group
At Selva Group, we offer a wide range of carpentry maintenance services to keep your woodwork looking its best and prolong its lifespan. Whether you need minor repairs or a complete overhaul, our team of skilled craftsmen is up to the task.
Some of the services we offer include:
Inspecting and repairing damaged woodwork.
Replacing damaged or worn-out parts.
Refinishing surfaces to restore their original luster.
Applying protective treatments to prevent future damage.
Benefits of Regular Carpentry Maintenance for Your Woodwork
Carpentry is a skilled trade that involves the shaping and construction of wood. Carpenters use a variety of tools to create both functional and aesthetically pleasing wooden products, ranging from furniture to buildings. Regular carpentry maintenance is essential to extend the lifespan of your woodwork and protect your investment.
There are several benefits of regular carpentry maintenance:
Protection from the Elements
Wood is susceptible to damage from extreme weather conditions, such as high winds, heavy rain, and hail. Regular maintenance will protect your woodwork from these elements and keep it looking its best.
Pest Control
Insects and other pests can cause serious damage to wood, particularly if they are left unchecked. Regular maintenance will help to control any existing pest problems and prevent new ones from developing.
Prevention of Rot
Wood rot is a major problem that can quickly destroy even the sturdiest of structures. Regular carpentry maintenance will help to identify any areas that are at risk of developing rot so that they can be repaired before it becomes a serious issue.
Beautification
In addition to extending the lifespan of your woodwork, regular carpentry maintenance will also improve its appearance. This is especially important if you have expensive or unique woodwork that you want to keep in good condition for many years to come.
Regular carpentry maintenance is an important part of protecting your investment and ensuring that your woodwork remains in perfect condition for years to come. Additionally, it can provide a pleasing aesthetic value to your home or workplace. For more information, contact a professional carpenter in your area today.
What Should Be Included in a Maintenance Service?
As with any type of home improvement, maintaining your woodwork is important to keep it looking its best and extend its lifespan. Regular maintenance service should include:
Cleaning:
Wipe down your woodwork with a damp cloth to remove any dirt or debris. You can also use a mild cleaning solution if needed.
Polishing:
Once your woodwork is clean, you'll want to polish it to protect the finish and keep it looking shiny. Use a quality furniture polish and apply it in a thin, even layer.
Touch-ups:
If you notice any scratches or other damage, touch them up with a matching stain or paint. This will help prevent the damage from spreading and keep your woodwork looking its best.
Re-staining and/or painting:
Depending on the condition of your woodwork, it might be necessary to re-stain or paint it. This will help protect it from further deterioration and give it a fresh new look.
Regular inspections:
Inspect your woodwork on a regular basis for damage or wear and tear. This will help you catch any problems before they become too severe, saving you time and money in the long run.
Following a regular maintenance service plan will keep your woodwork in great shape for years to come!
Tips for Choosing the Right Carpentry Maintenance Service Provider
Do your research:
When looking for a carpentry maintenance service provider, it is important to do your research and ask around for recommendations. Get in touch with friends, family, and neighbors who have had a recent experience with this type of service and can provide you with some insights.
Consider your needs:
What exactly are you looking for in a carpentry maintenance service provider? Make a list of your requirements and expectations before beginning your search. This will help you narrow down your options and find the right provider for your needs.
Get quotes:
Once you have an idea of what you want, reach out to several different service providers to get quotes. Compare the prices and services offered to ensure you are getting the best value for your money.
Ask questions:
Don't be afraid to ask questions when meeting with potential providers. Find out about their experience, expertise, and methods to ensure they are the right fit for you.
Be sure to schedule regular maintenance:
Regular carpentry maintenance is essential to prolonging the lifespan of your woodwork. Work with your chosen service provider to establish a schedule that works for you both.
Make sure they are licensed and insured:
Make sure the provider you select is properly certified and insured. This will provide you with additional protection and peace of mind if anything goes wrong.
Read reviews:
Reviews and ratings can provide insight into the customer service, reliability, and quality of a particular service provider. Take some time to read through them before making your decision.
How to Maintain and Preserve the Quality of Your Woodwork on a Long-Term Basis?
Your woodwork is an important part of your home, and it deserves to be treated with care. Here are some tips on how to maintain and preserve the quality of your woodwork on a long-term basis:
Regularly dust and vacuum your woodwork. This will help remove dirt, dust, and other particles that can damage the finish of your woodwork over time.
Wax or polish your woodwork regularly. This will help protect the finish and keep it looking its best.
Avoid placing hot items directly on your woodwork. This can cause warping, discoloration, or other damage. Use coasters or placemats under hot items to protect your woodwork.
Keep liquids away from your woodwork. Water, alcohol, and other liquids can damage the finish of your woodwork over time. Wipe up spills immediately to avoid long-term damage.
Avoid placing Sharp objects on or near your woodwork. Knives, scissors, and other sharp objects can scratch or chip the finish of your woodwork over time. Keep them stored away from your woodworking area to avoid damage.
Check for pest infestations regularly. Termites, ants, and other pests can wreak havoc on your woodwork. If you suspect a pest infestation, contact an exterminator as soon as possible to get it taken care of quickly.
Cost vs Benefits of Carpentry Maintenance Services by Selva Group
Regular maintenance is vital to ensuring that your carpentry work withstands the test of time. The Selva Group offers comprehensive carpentry maintenance services that are designed to keep your woodwork looking its best and prolong its lifespan.
The Selva Group's carpentry maintenance services include a thorough inspection of your woodwork, followed by any necessary repairs or replacements. We will also clean and polish your woodwork to restore its original luster. In addition, we will provide advice on the best way to care for your woodwork in the future.
The cost of our carpentry maintenance services is based on the size and condition of your woodwork. However, we believe that the benefits of our services far outweigh the cost. Regular maintenance will save you money in the long run by extending the life of your woodwork and preventing costly repairs down the road.
Maintenance Strategies Based on The Type of Wood Used
Wood is a durable material that can last for centuries with the proper care. However, different types of wood have different maintenance requirements to stay in good condition. The following are some general tips for keeping your woodwork in good condition based on the type of wood used:
Hardwoods (e.g., oak, maple, cherry):
These types of wood are very strong and resistant to wear and tear. However, they are susceptible to scratching and denting so it is important to protect them with a sealant such as a varnish or polyurethane. In addition, hardwoods should be cleaned with a mild soap and water solution followed by a dry cloth to avoid damage.
Softwoods (e.g., pine, cedar):
These woods are not as strong as hardwoods but are more resistant to scratching and denting. They also require less sealing and can be cleaned with a stronger soap and water solution without fear of damaging them. However, softwoods are more susceptible to staining so it is important to clean up spills quickly.
Exotic woods (e.g., teak, rosewood):
These hardwoods are very attractive and highly durable, but they require extra care and attention. For starters, they need to be sealed with a special sealer designed specifically for exotic woods to provide protection. In addition, the wood should only be cleaned with mild soap and water solutions as strong chemical cleaners could damage them.
No matter what type of wood is used, all woodwork should be inspected regularly, and any damages or wear and tear should be addressed promptly to prevent further damage.
DIY vs Professional Service – Which Is the Best Choice?
When it comes to maintaining your woodwork, you have two main options: DIY or professional service. So, which is the best choice for you?
There are pros and cons to both options. DIY can be cheaper, and you have the satisfaction of doing the work yourself. However, it can also be time-consuming, and you may not have the necessary skills or tools to do a good job. Professional service is typically more expensive but it's less time-consuming and you can be confident that the work will be done properly.
Ultimately, the best choice for you depends on your individual circumstances. If you have the time, skills, and tools required, then DIY may be the way to go. However, if you want a quick and hassle-free solution, then professional service is probably your best bet.
Tips for Cost Effectiveness when Getting Maintenance Services
Get regular maintenance services:
Regular maintenance services help to keep your woodwork in top condition and maximize its lifespan.
Check for damaged parts:
Over time, parts of your woodwork can get damaged or become worn out. Checking for these issues and getting them repaired or replaced as soon as possible can help to extend the lifespan of your woodwork.
Use high-quality products:
When cleaning or maintaining your woodwork, always use high-quality products that are designed specifically for wood. This will help to protect your wood against damage and wear.
Be careful with harsh chemicals:
Some cleaners and polishes can contain harsh chemicals that can damage wood. When using these products, be sure to follow the instructions carefully and take adequate precautions to avoid damaging your woodwork.
Try to DIY:
There are many maintenance tasks that you can do yourself. For example, cleaning and polishing woodwork does not require any special skills or tools. Doing these types of tasks, yourself can save you money in the long run.
Shop around for services:
Don't just go to the first service provider that you find. Take some time to compare prices and services from a few different companies to get the best deal.
Ask for a discount:
Many service providers are willing to give discounts for maintenance services, especially if you're a repeat customer. Don't be afraid to ask for a discount when getting your woodwork serviced.
Following these tips can help you get the most cost-effective maintenance services for your woodwork. Taking proper care of your woodwork will ensure that it remains in good condition and looks great for years to come.
Regular maintenance and care services, such as those provided by Selva Group, are crucial to maximize the lifespan of your woodwork. Not only can we help preserve the beautiful appearance and charm of your furniture but also ensure that investing in high-quality materials won't just be a waste of money. Whether you want to keep your floors looking glossy or maintain your wooden decked area, you can rely on Selva Group's experienced professionals for exceptional craftsmanship that'll help protect your precious treasures for many years to come.
Carpenters, Carpentry, And Furnishings Repair In Dubai
Our development tasks continue to offer high-quality residential, industrial and retail house sat reasonably priced costs which enchantment to a broad range of consumers. The customer service is excellent, and their technicians are professional and courteous. Our carpenters will repair all of your carpentry maintenance points and resolve them. In addition, we simplify your life by providing free quotes from the best shifting and other home companies corporations within the UAE. With adequate moveable energy tools (Saw Blade machine, and equipment, it makes our work faster and more straightforward to prepare the wanted supplies.
Installs locks, knobs, hinges, door closer, and other fixtures to structures. Rent quite so much of Boats, yachts, and lots of extra water transports online. Book an appointment online from a selection of Beauty services. Carpentry companies in Dubai will fulfill all your jobs with care. For this function, partitions play an essential position so that nobody might trigger any disturbance to others.
The Maintenance Specialists
To enumerate, take responsibility for service supply from end to finish. In addition, we assist you in customizing or repairing your furniture, doorways, and home windows. Hence, well-timed maintenance of picket gadgets can additionally be necessary. Professional and helpful staff who got here on Friday to fix a water leak in our kitchen. When many companies refused to help us due to it being on a day off, we relied on this company's help and professionalism as correctly. Positively recommend them and can share their contact with associates too. He can do every type of carpentry providers like making new furniture, making couches, dining tables and chairs, TV tables, study desks, wooden cupboards, and so forth. 
If your door lock isn't working correctly, and you're in peril of your safety, then name us for fixing door locks and for repairing door hinges. Carpentry maintenance Services Dubai is a UAE primarily based firm specialized in Furniture Assembling, Partition Making, Furniture Repairing and Door Handles Locks & Hinges Fixing. If you make new cupboards, wardrobes, and cupboards in your kitchen, storeroom, or bedroom. We are offering multiple providers on your house, condo, villa, construction, and offices. Our services likewise incorporate fixing and refurbishing old furniture to give a new look and providing because a reliable and reasonably priced range of Carpentry upkeep services for residences & companies across Dubai.