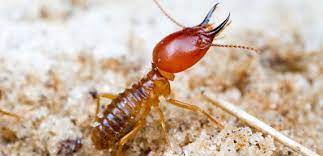 Termites Pest Control Services
In, accordingly, swarming termites, there is a longtime colony close by searching for a new nesting area and meaning your own home is in peril. Termite Control is an essential facet of every pest control service course. In Dubai and UAE, termites are a significant risk for peaceable life and an actual trigger of damage and destruction. The most typical methodology of treating a termite infestation is a barrier remedy applied in the soil. 
The termite repellents utilized in barrier treatments should be particularly distinguished for this use. Subterranean and damp wood termites typically swarm on hot spring and summer days. In late summertime and into fall, the dry wooden termites spread. While many homeowners worry about fire or flooding, Termite injury is a more widespread downside in the UAE. 
Therefore, termite therapy or termite control remedy is prevention methodology (Pre-Construction Termite Treatment) or extermination method (Post Construction Anti-Termite Treatment) because this termite management treatment is much less complicated, cheaper, and fewer annoying methods to stop infestations than to exterminate the same.
Why Choose selva cleaning for Termite Pest Control in Dubai?
Selva cleaning  Pest Control deals with pest problems like termites very professionally, after carefully understanding their nature and behavior. As a result, we always rely on environmentally-friendly methods and fewer chemicals to achieve better, guaranteed results to avoid pollution and other environmental risks. 
Pre-Construction Termite Prevention: 
Unlike other pest treatments, termite prevention should happen before you even start constructing a building is called pre-construction termite prevention. Legally or by contractual obligation, you are bound to conduct pre-construction anti-termite treatments to protect your building and eliminate future risks. 
The process starts with a site survey, chemical applications, soil treatments, and continued evaluation. We call it termite-proofing, which comes with a limited-time service warranty. Again increases the longevity of your building. 
Post-Construction Termite Treatment: 
With changes in the environment, vulnerability increases. So it would help if you kept tabs on your surroundings to reduce the risk of termite attacks. However, there is a high chance of termites when you bring untreated wood materials into your homes, such as wooden door frames, furniture, and fixtures. 
This calls for post-construction treatments as well. At selva Pest Control, we leave no stone unturned to help you out of this situation. Using safe and advanced methods and chemicals, we destroy termite colonies and prevent them from spreading, ensuring your property remains free from termites, always.